What Are The Best Wall Art Dimensions For Your Space?
The size of the artwork you choose for your wall is important. The Internet has made it easy to fall in love with wall art for Business. So what's next? Your artwork will look great when framed and hung in your home. Have you ever heard of a method for hanging wall art? We will also discuss some basic math, and you will feel confident hanging any artwork.
Make A Big Splash Or Go Home.
It's always better to go big. If you are decorating, you should aim to fill ⅔ or ¾ wall spaces with art. Going for a large artwork will prevent your walls from overwhelming your choices and failing to draw your attention to them. Additionally, it would help if you considered exposed walls and furniture placement in a room. In the case of a sparse space, a large piece of artwork would fill the visual field occupied by furniture. We have a large collection of artworks you can see here.
You should also consider the height of your room. If you plan on hanging artwork on a wall, be aware of high ceilings that require vertically oriented artwork. If the ceiling is lower or the walls are shorter, you might prefer a shorter piece that is landscape-oriented. Alternatively, you may have a beautiful cornice begging for an oil painting. The best way to decorate a wall is with a larger piece of art, something we emphasize especially when buying modern, contemporary art.
What Is The Distance Between Art And The Wall?
It's time to hang your artwork now that you've chosen it. Whenever hanging art over furniture, especially beds, fireplaces, and couches, make sure that the frame is placed between 2/3 and 3/4 the width of the furniture. The artwork you choose for these locations should also provide a little breathing room. It is usually best to hang the work about 10cm to 30cm higher than the furniture's top. If your wall doesn't have furniture close by, hang a focal point artwork at eye level and on staircases.
An Overview of Wall Art Arranging
After determining the sizes and walls, you wish to decorate with wall art, arrange your pieces to create a cohesive look. Choosing wall art for a business for a blank wall can be challenging – you need to consider your style and the space itself. 
Wall Art Arranged On Shelves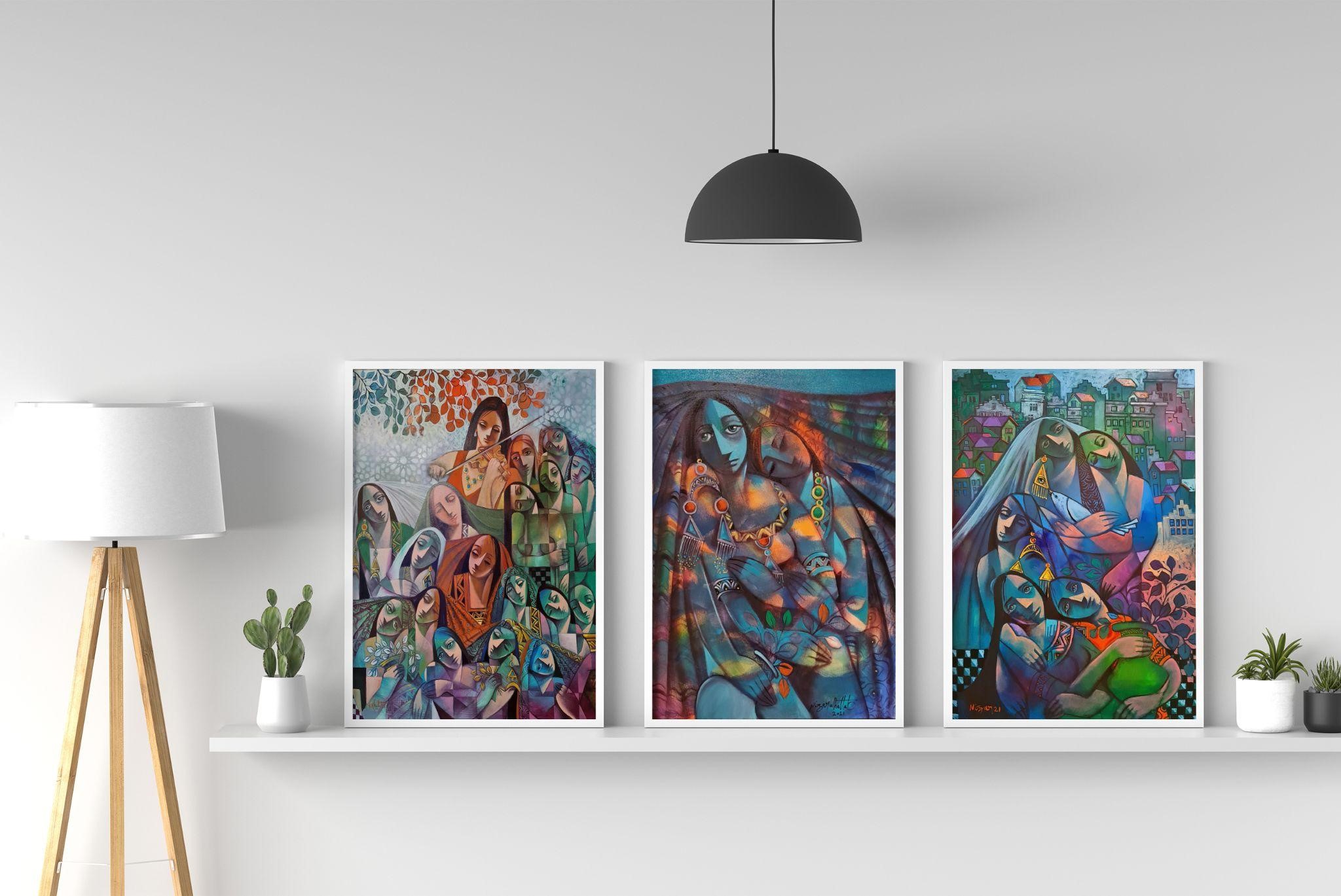 Another option is to use floating shelves to avoid drilling too many holes in the wall. Of course, you can also display the metal prints on them. You can arrange your shelves in a variety of ways. You can create a layered look by staggering and mounting your shelves on your wall. If you have a long, narrow space with a low ceiling, placing the shelves in a single line creates a more uniform appearance.
You can display your wall art in various sizes with shelves if you can't decide! Depending on your mood or the season, you can easily swap out this arrangement for another piece.
●     Gallery Walls
Gallery walls are great if you prefer smaller pieces or just like to have fun with whole walls of art. You may be wondering, what exactly is a gallery wall? An art gallery is a curated collection of artwork displayed on a wall or a wall aspect. Most often, these are smaller pieces with varying sizes and colors. You can also make a statement with a feature wall if you don't have much wall space. 
●      Artwork for the Centerpiece
The piece in your room that really stands out to you might be the one you want to showcase. In the right room, oversized wall art can serve as a focal point and fill up the walls effectively. A centerpiece can serve as a focal point and ground a gallery if you have enough wall space. Choosing between two sizes can be difficult, so go for the larger one. On a large wall, a small centerpiece will make your space feel smaller and look like an afterthought.
●      Artwork for Staircases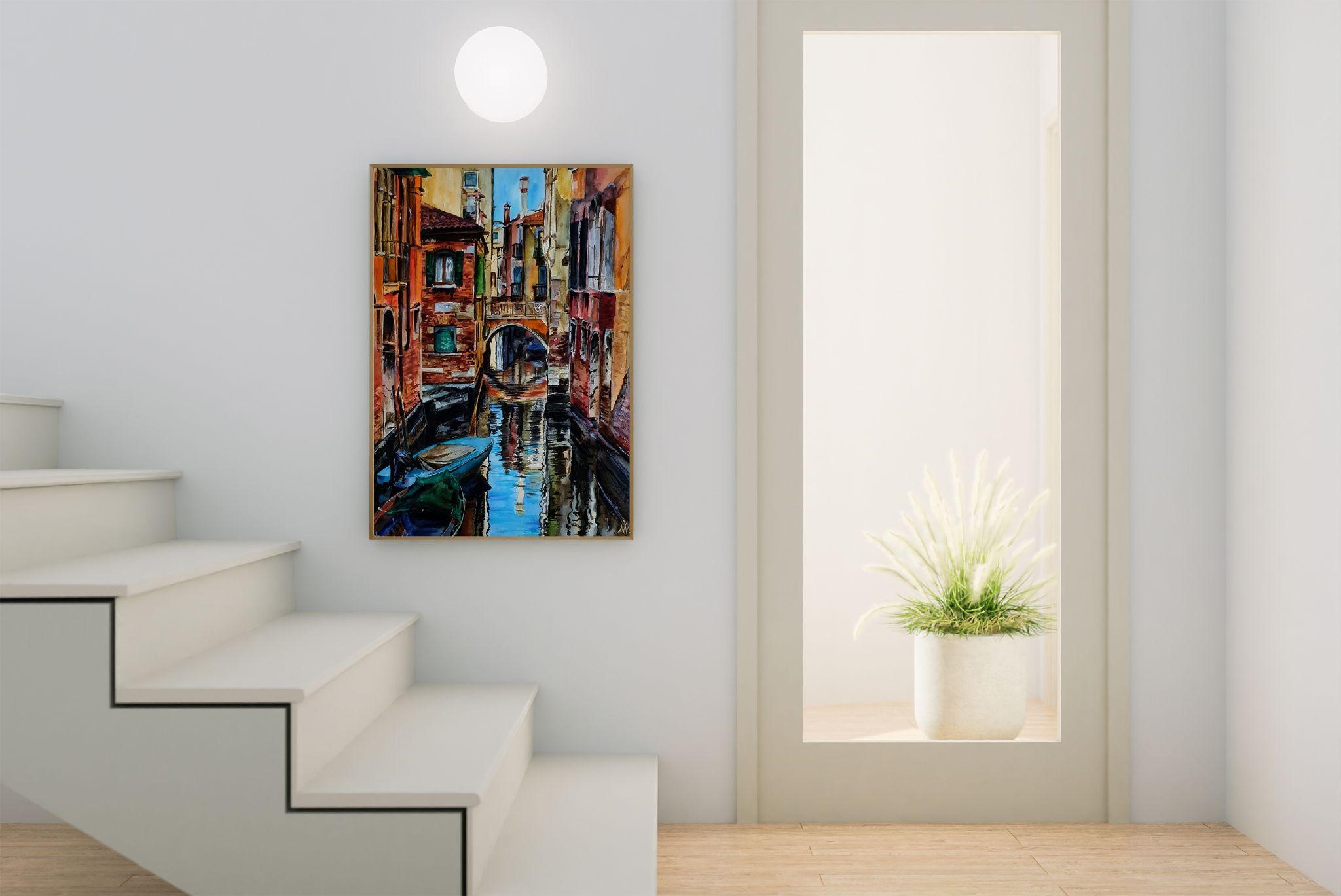 You can also arrange wall art along your staircase. It's a creative way to brighten up a dark stairwell or utilize unused space. As a result of this classic arrangement, your ceiling can also appear higher.
To get an idea of where you want your wall art prints to hang, arrange them on the floor first. Next, visualize a line parallel to the stairs' angle. It is best to place wall art for business with the largest prints adjacent to the imaginary line while smaller prints are just barely touching it at the corners. The result will be better-looking and more even wall art. It is best not to make the staircase too narrow or too tall for this style so that it does not fall over easily.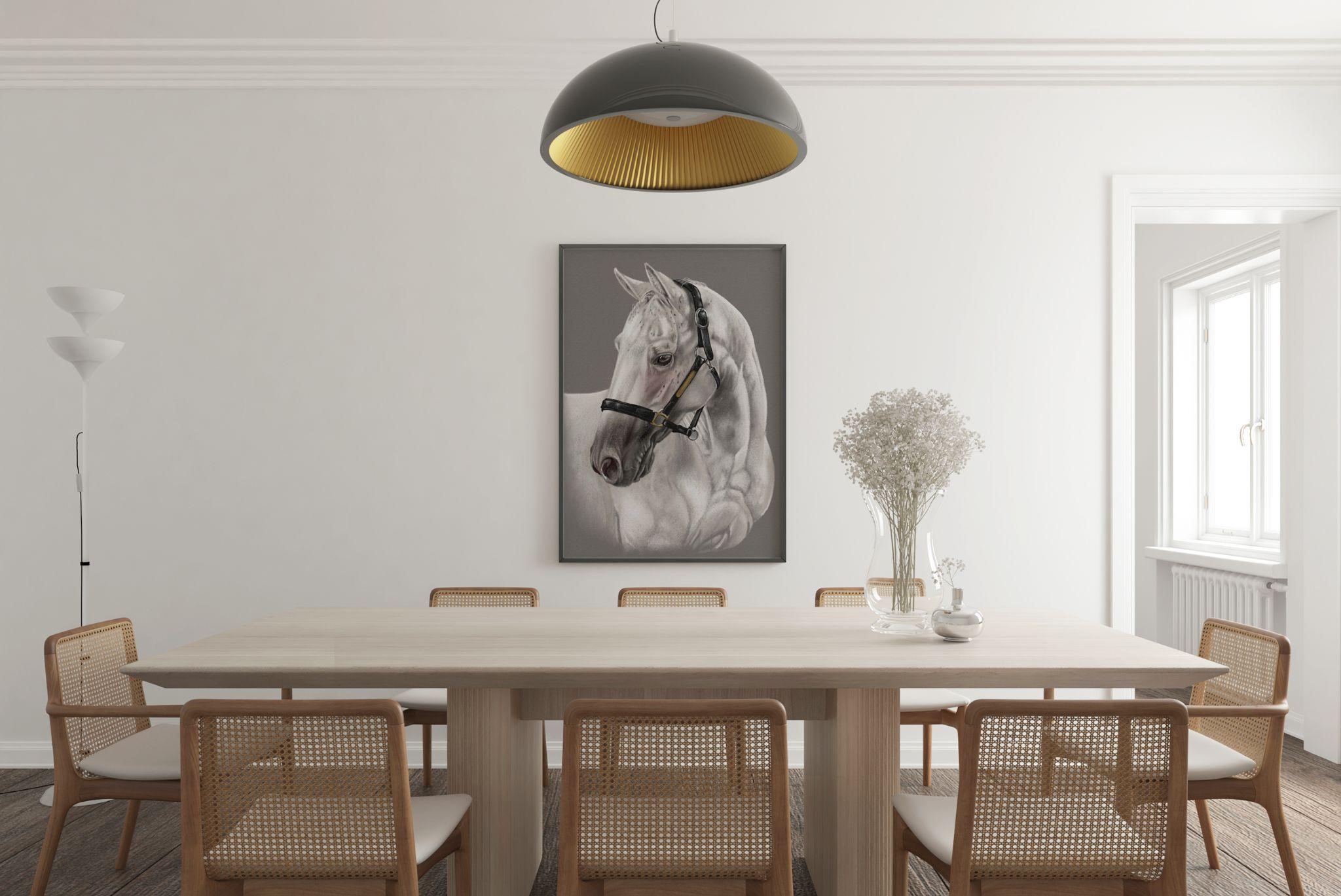 Consider your wall space's shape when choosing orientation. Are there any vertical spaces between your windows? You can create a sense of height and openness by choosing a work in portrait orientation. Does your dining room table have a blank wall behind it? If you want your visual field to be filled, go horizontal or landscape.
How To Choose The Right Wall Art Size?
The wall art should be proportional to the wall before hanging. Therefore, the size of the piece and the height at which to hang it are the two most important factors. You can get a good idea of the size direction you need to take by marking out potential dimensions on your wall with a pencil or tape.
You should first measure the height and length of the wall you will be hanging wall art on. The height and the size should be multiplied by .57 and .75. the artwork you select must have measurements within these limits.
These calculations also apply to choosing the right wall art size for your furniture. Wall art should be between 47 and 63 inches wide to complement a couch that is 84 inches wide. Make sure your wall art is oriented correctly. Typically, landscape-oriented canvas wall art looks better over a couch or bed, whereas portrait-oriented art looks better in bathrooms or offices with narrower walls. Take your wall art's dimensions by eye instead of calculating them. You should ensure it covers at least two-thirds of the space on the wall or three-quarters of the width of the furniture.
Wall Art Size
The choice of size can be difficult when decorating a space with wall art because there are many different sizes. This step, however, is crucial to preventing your spread from appearing incomplete or cluttered. You can choose from various sizes based on the size of your room and the goals you have for your wall art.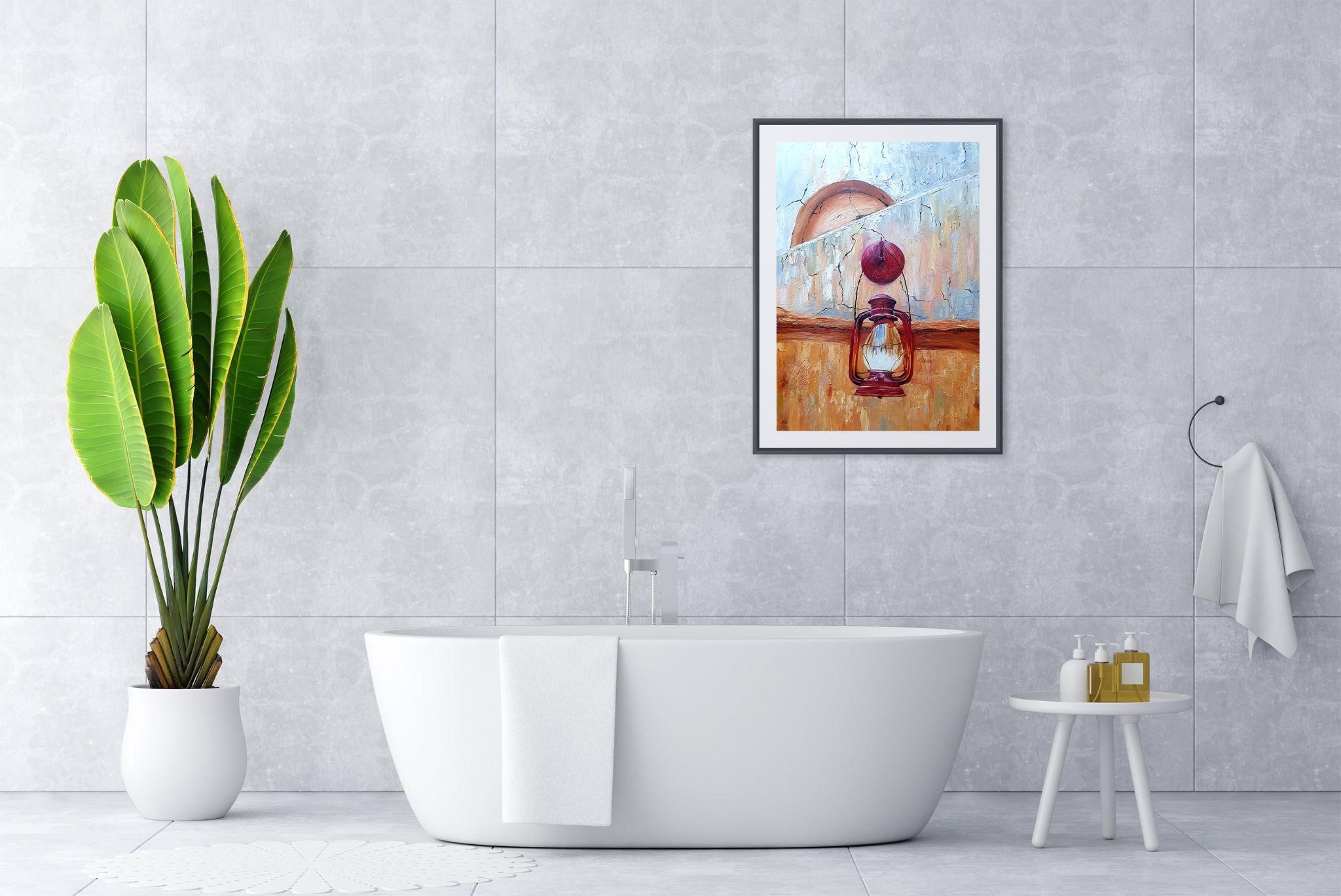 Small wall art can be perfect for decorating shelves when grouping a series of small wall art for a gallery. There are 18 to 24 inches of height and width of wall art on the small side. Arrangements for framed photos and prints can also be made using these sizes. Smaller pieces, like bathrooms and dorm rooms, are ideal for limited wall space. These can be hung in pairs or groups of three if necessary.
The dimensions of medium-sized wall art usually range from 25 to 32 inches (two to three feet). It's great to have some office art that's in a medium size without adding too much clutter and distraction. Hallways and foyers also benefit from medium sizes.
These wood wall art pieces have a medium size of 24 by 36 inches. A series of similar-sized vertical articles will create a set if your medium work looks too tiny on your wall. These wall art prints can be hung individually or in groups.
A large wall art size will give your room a polished look. A large wall art piece can have a width and height ranging from 33 to 40 inches (two and a half to four feet). When it comes to large wall art, you should avoid grouping it with other prints of the same size because it can quickly overcrowd your space.
In addition to serving as classic pieces, large art pieces can also help balance out smaller amounts. It is possible to create an attractive, collective art gallery look by hanging several smaller pieces next to a large one. As canvas prints are usually large, this size would be perfect for displaying them.
Wrap up
Wall art selection is not a one-size-fits-all process, particularly when it comes to furniture and wall space. However, as a general rule, you should ensure that your wall art occupies at least 2/3 of the wall space or 3/4 of the furniture width.
Make sure your gallery or shelving arrangement is unique by mixing up the pieces! Wall art that includes canvas, framed prints, and metal can create a multi-faceted look. Having learned these tips and tricks, begin enjoying ordering wall art services for your space. Explore our sizes and types of wall art services for your next project.