New goals, merriment, and a fresh viewpoint are all accompanying the start of 2022. Most people use this time to make the most of it by visiting friends and family or partying. Despite this, some appreciate art for its inherent meaning. Visiting an exhibition is one of the best ways to do so. And of course, we love to share the few important events and notes of our stall showcased in the Hotel Show Dubai at Dubai world trade center from 24 to 26th May 2022.
The Real Purpose of our Art Exhibition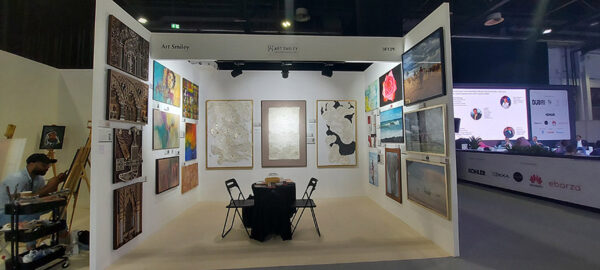 Art is a non-generic way of expressing emotions. We take this exhibition as the chance to showcase our talented artist's artworks and unique sculpture pieces. Art exhibitions are amazing places for describing artworks and explain story behind them to interested clients.
Our vision for the exhibition is to eliminate barriers for artists, curators, galleries, and cultural institutions to exhibit by developing a global platform that enables social sharing. It enables new collaborations between artists, galleries and clients.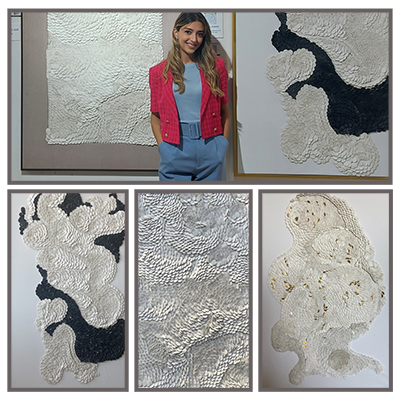 Sarah Ibrahim is a self-taught Lebanese Artist. For Sarah, Art is when she feels the material in her hands, and it tells her that this needs to be created!
She always uses fingerprints to leave a part of herself on the Pieces created and using mirror to make the viewer seeing a part of themselves in the same piece of Art.
She participated in the dubai design district exhibition festival. Two of her artwork are placed in the Prime Minister's Office.
Awais Javed is an Australian artist who comes from a background in electronics engineering and express his love for art through layered wood art. His interest in wood working is both aesthetically motivated and nostalgic. His work is strongly influenced by Islamic Architecture and Cultural patterns.
He create compositional structures based on a curated catalog of physical and visual relationships that he had cultivated from his daily life. These compositions are intuitive expressions related to his fascination with the many facets of the built and designed world.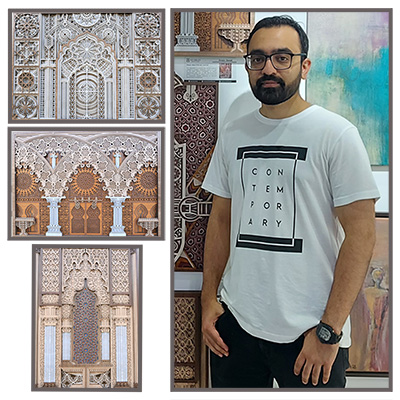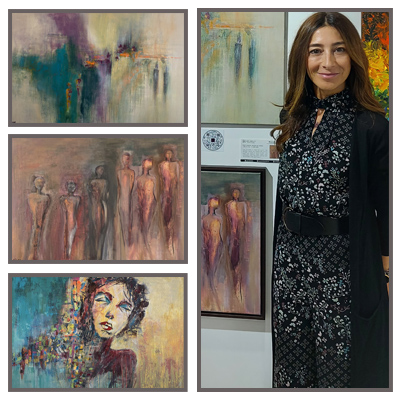 The Swiss artist Rozeta Hallenbarter currently resides in Dubai. Her paintings are filled with passion, experimentation, and joy. The Art she creates comes from her own personal experience, emotions, and senses. Her ambition is to achieve balance between color, values, textures and to create that beautiful contrast between harmony and chaos.
The process is exposed through acrylic gestural stroke and collage elements. Expressing herself through color, texture, shapes, lines, pattern with different techniques and media. She creates modern abstract works, which focus on expressing intuitively the sense of flow and purity of color.
Tanvi Patel is a 20-year-old canadian artist. As a painter, Tanvi Patel loves expressing nature, history, her thoughts, feelings, emotions, and philosophical ideas through her paintings.
She won first place in oil for the painting of "Remember Me," and third place in oil for the "Unbreakable Bond" at RT Art Exhibition. First Place in Oil Painting in the Women's Day competition. Tanvi won third place in oil and people choice award.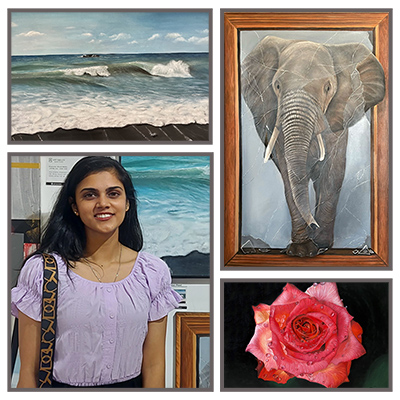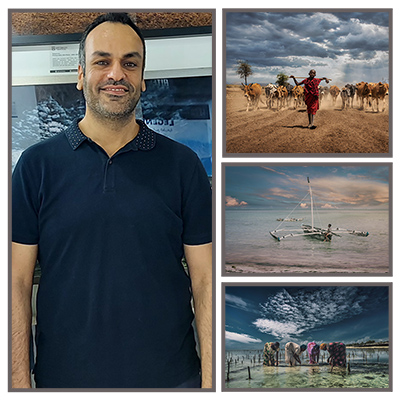 Osama Elolemy is a full-time project manager with an engineering background specializing in portrait and fine art photography in Dubai. He wants to take photographs of normal, regular people that become models for the first time.
Through his work, he endeavours to convey the beauty of all things. Moreover, he was interested in preserving places that might appear ordinary, but when you look closer, magnificence appears. He tries to emphasize both human beings' inner and outer beauty and their splendour complex.
Indian Artist Minika based in Bahrain. She was admired for her artistic abilities during her school days and was known for her unique paintings among fellow mates. Her Abstract paintings depict optimism, steering the viewer towards an era of imagery, speaking volumes.
These paintings created are a reflection not only of herself but of her various experiences of life, reflecting a wide array of emotions and thoughts, connecting its viewers to some part of themselves.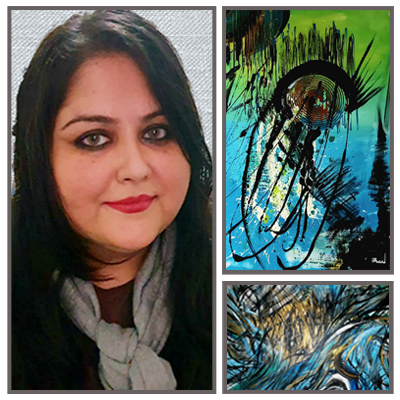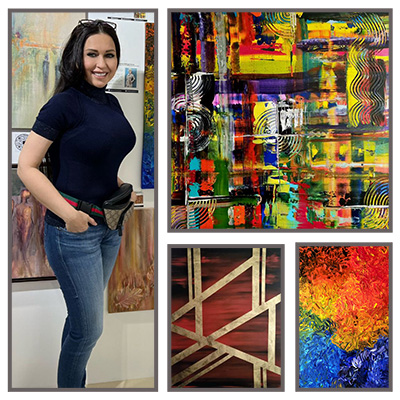 A Russian artist named Vera Mirjanova is a creative individual. Her work is inspired by nature, and she gets inspiration for her paintings from all around her. Vera Mirjanova's passion for painting started when she was a child, but she started doing it a few years ago.
As a professional 3D visualizer and interior designer, she shows creativity in fine Art. Contemporary abstract painter working in acrylic, mixed media on canvas.
At Heriot-Watt Dubai, Kalopsia Wiz studies Marketing and International Business Management. She is an Indian fine artist and poet too.
Kalopsia has won the international "Rembrandt" Award for outstanding artwork exhibited at MindScape organized by CreARTors collective.
She participated in different exhibitions and art competitions in Dubai.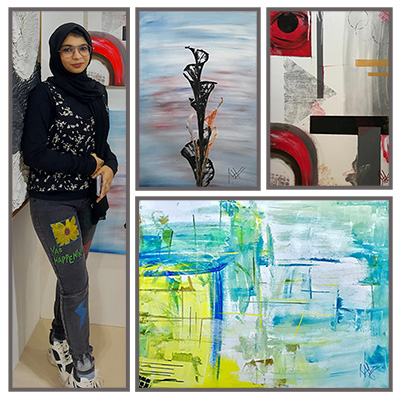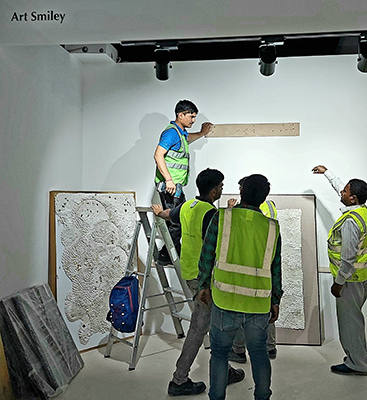 Installation of artworks require the spectator to walk through an entire room or gallery space to engage with them fully. We have a team to showcase our artworks that steam visitors' attention. We put full-fledged efforts into bringing the best artworks to be presented to art lovers. The perfect lighting helps the colors and the definitions of the artworks visible to the audience.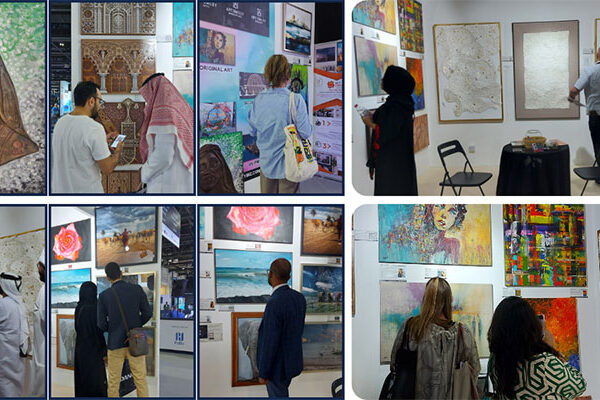 The visitors are so excited to see through the work in the exhibition. We showcased artworks that covered various themes. Our guests were simply impressed with our stunning artwork and sculpture samples of the show. Most of the visitors inquired about Sarah's Clay works on canvas, they were amazed by Laser cutted wood works of Awais, admired abstract works of Rozeta, Vera & Minika.
Clients were gazing at stunning photography works of Osama and loved realistic works of Tanvi.
Our day was filled with more and more visitors with a never-ending thirst for searching the modern and creative artworks. We had a pleasant time spending with art lovers and their interests, which helped us know the demands.
Mr. Lurdh Allam, CEO, and Co-Founder of Art Smiley, gave an interview to Event Tv Live and Estative Network, stating our notable artists' services and art collections. He has added a note on how Art Smiley serves clients in diverse industries.
The last day of the exhibition had a closing ceremony with the wonderful suggestions and views of our visitors. We received a lot of love and support from our viewers through our artwork.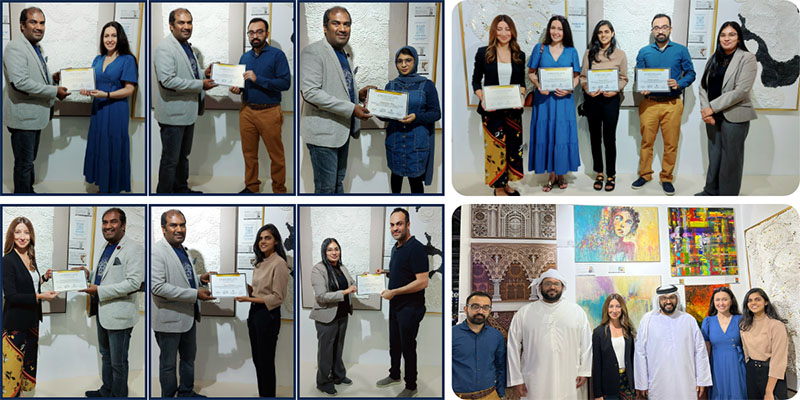 At the ending day session, Art Smiley Co-founders Mr.Lurdh Allam and Mrs. Aruna Allam awarded the participation certificates to our beloved artists.
Synchronicity – Fine art photography by Osama Elolemy was sold at the exhibition.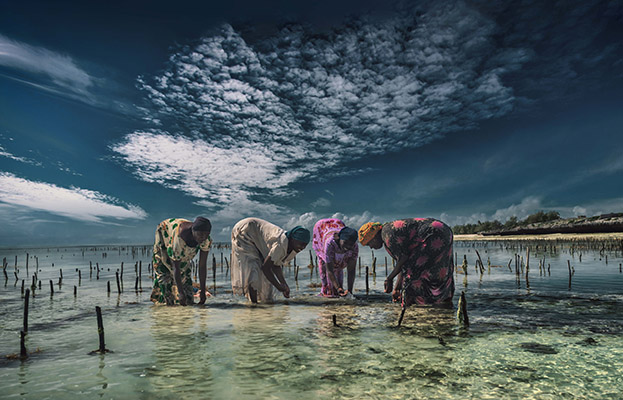 Description of work:
Joyful beings.
Nothing is too hard when you have great
companionship.
Explosion of colors and divine beauty.
All working in perfect synergy.
On an artistic note, we love to connect with you for further upcoming events. If you feel that are artworks impressed you then never delay placing your orders with us to explore the unlimited artworks and sculptures.
Turn Your Day New With Our Artworks!